Artists for Treeline Lurline
Local arts and artists are at the heart of Treeline Lurline, helping us to see what is there and what is not and to imagine what could be. We cannot create change without first imagining it.
Painting, writing, singing, reciting, photographing …
The Treeline Lurline project began with a poster by Lowell Tarling that imagined a tree in Lurline Street.
Then Lowell wrote letters. He asked how the street travelled by millions of people each year, including world famous artists, performers and writers, on their way to Echo Point could be so dreary. Imagine if there were street trees.
Lowell's friend David Wardman painted two watercolours of a tree-lined Lurline that became our inspiration and branding. John Ellison sketched and wrote about the people passing.
Peter Hall wrote a poem about the "blank nether region" of Lurline that leads to the "ancient hush' of the Three Sisters.

Mic Conway and Guy Dickerson each composed and recorded a love song to our town for the project. The Katoomba North Ensemble created a video singing a Darug song about the precious gifts from trees.
Many other artists have also brought their creativity to the past, present and future of this place. We invite everyone to enjoy the arts of Treeline Lurline and thank our participating artists.
Musicians for Treeline Lurline
Katoomba
Mic Conway, 2022
Written and performed as a gift from Mic for the Treeline Lurline project.Mic Conway – words, music, vocals, ukulele, saw, washboard. Guy Dickerson – guitars, recording. Lino Romeo – bass, vocal harmony. Joel Robinson – cameras and direction. Jen Blissett – film editing. Recording and editing supported by Bendigo Community Bank Katoomba.
Katoomba Cats
Guy Dickerson, 2022
Written, performed, recorded and produced by Guy Dickerson for the Treeline Lurline project in Blue Mountains recording studios.
Says Guy: 'I'm singing about the Hep Cats of Katoomba. After the Treeline Lurline project is completed, I can foresee a time when Lurline Street is full of cafes, art galleries and people strolling to see the Three Sisters. That's one hep little street!'
Warrami Ngallowa
h Mittigar
Katoomba North Ensemble, 2022
Katoomba North Public School students sing a welcome song in Dharug language by Russell Baker. The video was created to support Treeline Lurline and includes visual artworks by the students. They are especially excited about their future insect, bird and tree-lined 'walk of wonder' along Lurline Street to and from high school.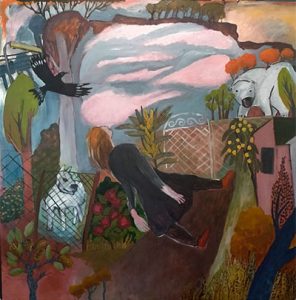 If You Want to See Geoff
Lyn Harrison
Says Lyn, 'Lurline Street is part of my habitat, my haunt, my beat, where I walk most days. I'm fond of the houses and people and the weird gnarly trees, and the dogs and the bears and horses and Geoff at the gallery on the way. It's an interesting street in an interesting town.'
Spring Garden in Lurline Street
Pennie Steel, 2022
Acrylic on canvas 1215 x 910mm. Cathkin Braes in Lurline Street was built by stonemason John Howie in 1912 and is now the home, garden and studio of Pennie Steel and Brian Reid. Says Pennie, "To live as an artist in an artisan's building is quite wonderful."
Poets for Treeline Lurline
The Blue Mountains
Henry Lawson, 1896, recited by Greg North
Two bush poets born a century apart appear together in this video of Greg North reciting Henry Lawson's 'The Blue Mountains' at the Clarendon Guesthouse in Lurline Street. The poem draws on Lawson's love of the natural world and of the Blue Mountains where he worked as a 'tradie' with his father in his youth.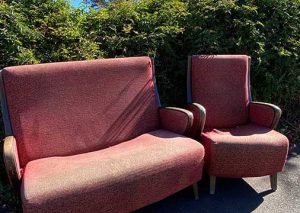 Wandering
Leonie Bingham, 2022
Leonie wanders all around Katoomba collecting ideas and finding interesting things to photograph. When she heard about the Treeline Lurline project she decided to explore Lurline Street. This is her poem about that.

Partners and Major Sponsors